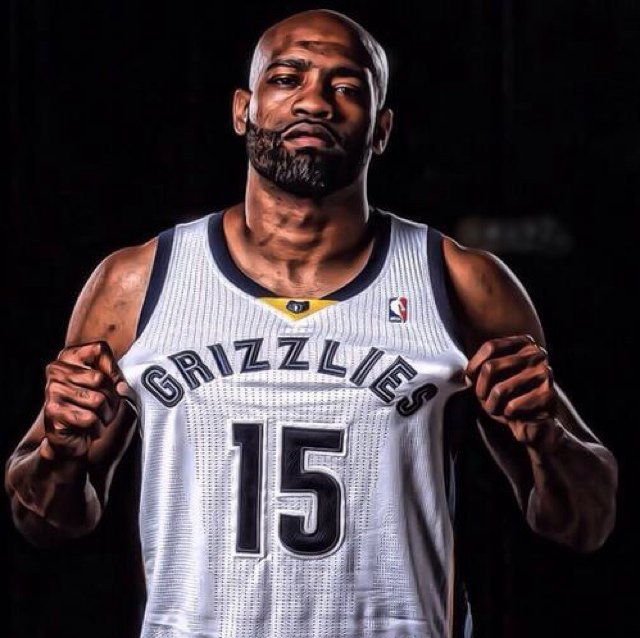 If there's a defining image of Vince Carter's career, it comes way back in 2000 at the Olympics, when he was playing for Team USA. Carter literally jumped over a 7-foot-2 man to dunk against France; the most famous camera angle had him hovering above Fred Weis' shoulders.
But as impressive as it was, there were caveats. That 2000 squad was one of the least impressive and most negatively regarded to win the Gold Medal, for one. And Weis himself was as soft as tissue paper, one of the worst Draft picks in NBA history for the Knicks. As such, it kind of fit Carter's modus operandi: He's a wonderfully skilled and delightfully flashy player, and yet you can pick apart his resume in a way that you could not for some of his similarly talented peers.
That said, Carter has come a long way from his humble beginnings as a high school saxophone player in Daytona, Fla. Carter would commit to play for legendary North Carolina coach Dean Smith on a team that also included future pros Antawn Jamison and Shammond Williams. Carter made two consecutive Final Fours, though Carolina was unable to win it all in either season. After his junior year, he followed Jamison into the NBA Draft, where he was selected one pick after him at No. 5 by the Warriors, and then immediately traded to the Raptors for his college teammate.
Carter was almost immediately a centerpiece for the up-and-coming franchise, notable for his ridiculous athleticism and penchant for clutch fadeaway jumpers and dubbed "Air Canada," "Vinsanity" and "Half Man, Half Amazing" depending on personal preference.
He averaged 18.3 points in the lockout-shortened 1999 season to win Rookie of the Year, and then exploded for more than 25 points per game in 1999-2000. Perhaps the non-Weis zenith of his career came that winter, when he performed some of the most ridiculous dunks in the history of the NBA Slam Dunk Competition, which was less a contest than a showcase for his talents. Given a signature sneaker and a starring role in the fantastic Roswell Rayguns ads, Carter was among the select few young lions nominated to take the baton from a soon-to-retire Michael Jordan.
https://www.youtube.com/watch?v=ImAMVqA6mug
2000-01 saw Carter average 27.6 points while leading the Raptors to a team-record 47 victories and a first-round win over the Knicks. Backed by his cousin, Tracy McGrady, Carter excelled in the East semis against the Sixers, though he drew scrutiny for attending his college graduation in Chapel Hill the morning of Game 7. Carter missed the game-winning shot with two seconds remaining; if it had gone in, there would have been no room to criticize him. As it stands, it's hard to imagine Carter regrets his decision now, if he even did then.
Though he still played well, injuries — and attitudinal issues, which he's admitted — mostly derailed Carter's next two seasons, which were also marred by the perception that he didn't have the killer instinct and defensive effort required to be truly great. Not to mention, changes in team management didn't agree with him, nor did McGrady's decision to spread his wings by signing with the Orlando Magic. Carter was traded to the Nets on Dec. 18, 2004, revitalizing his personal fortunes and offering him a fresh outlook.
Carter's injury problems basically went away in New Jersey, as he teamed with uber-point guard Jason Kidd to go to the postseason three times. Carter helped lead a slow-starting Nets team to the playoffs, and then caught fire in 2005-06, inspiring a 20-game winning streak and scoring 51 points in a game against the Heat. New Jersey would beat Indiana in the playoffs, before losing to eventual champion Miami in the semis.
Though Carter remained at a high level, the Nets struggled with injuries and a lack of post game over the next few seasons, and they would eventually trade both Kidd and then Carter. The year after Carter's departure, New Jersey won just 12 games. His new team, the hometown Magic, won 59 and made the East Finals. On a team with Dwight Howard, Carter wasn't required to do as much, but still averaged more than 15 points.
Carter was traded the following December to Phoenix, and then signed with the Mavericks for three seasons, where he maintained a solid level of play. He finished the 2014 season seventh in NBA history in three-pointers, and 30th all-time in points scored.
And once in a while, the old Vinsanity shows itself. In Game 3 of the first round against the Spurs, Vince hit a game-winning three-pointer that wouldn't have looked out of place in the late 90's. In a way, it was a full-circle thing in certain ways; though the Spurs would go on to win the series and the championship, Carter finally had that postseason game-winner that didn't fall in 2001.
"Sometimes you'll miss a big shot — 2001 — and you'll hold onto it for a while until you get the opportunity again," Carter said after the game. "I'm just glad it worked out this time, years later."
Not yet ready to wrap up his career, Carter signed with the Memphis Grizzlies for the 2014 season, his veteran savvy and flair for the dramatic in deans for a potential congener. Set to turn 38, Carter is bound to slow down at some point, at which time he'll be an intriguing contender for the Hall of Fame. For now, when you have the chance, check out Carter for an interesting example of a high-flier whose savvy has sustained him in the twilight of his career.
"I still love the game," Carter said recently. "I've always prided myself on not disrespecting the game. And it brings things back to me and it's allowed me to still be able to play this game at a tender age of 30-something."Birthday: January 26th, 1977
Height/Weight: 6-foot 6-inches, 220 pounds
Twitter: @mrvincecarter15
Drafted: 1998, 1st round, 5th pick, Golden State Warriors (traded to Toronto Raptors)
Teams:
Schools:
Mainland High School (Daytona Beach, FL)
University of North Carolina (1995-1998)
Awards:
Eight-time NBA All-Star
NBA Rookie of the Year (1999)
NBA Slam Dunk Contest winner (2000)
Second-team All-American (1998)
McDonald's All-American (1995)
Gold Medal for Team USA (2000 Olympics, 2003 FIBA Americas)
NBA Statistics: 19.7 PPG, 4.8 RPG, 3.6 APG, 1.1 SPG, 46.3% FG, 79.9% FT
Sneakers:
Nike Air Strong (UNC)
PUMA Cell Origin Mid
AND1 Tai Chi (Dunk Contest)
Nike Shox BB4 (Olympics)
Nike Shox VC
Nike Shox VC II
Nike Shox VC III
Nike Shox VC IV
Nike Shox VC V
Nike Air Max Hyperposite
https://uat-blog.finishline.com