VIEWS from Courtside: Why the Raptors, NBA Need Drake
It's a below-freezing February morning in the middle of Downtown Toronto. The type of unsympathetic cold that makes you question every decision in your life, including why you're there in the first place. It's 2016 NBA All-Star Weekend, a once-a-year event that is so significant, it makes bearing the artic temperatures of Canada completely worth it.
In this town, Drake is king. Sure, there are other figures that have contributed to the rise of the "6ix" in popular culture. But for now, the rapper and the town are not mutually exclusive. There is a trace of Aubrey Graham everywhere: billboards, Instagram captions, shoes, radio, casual conversation. A fittingly omnipresent Six God.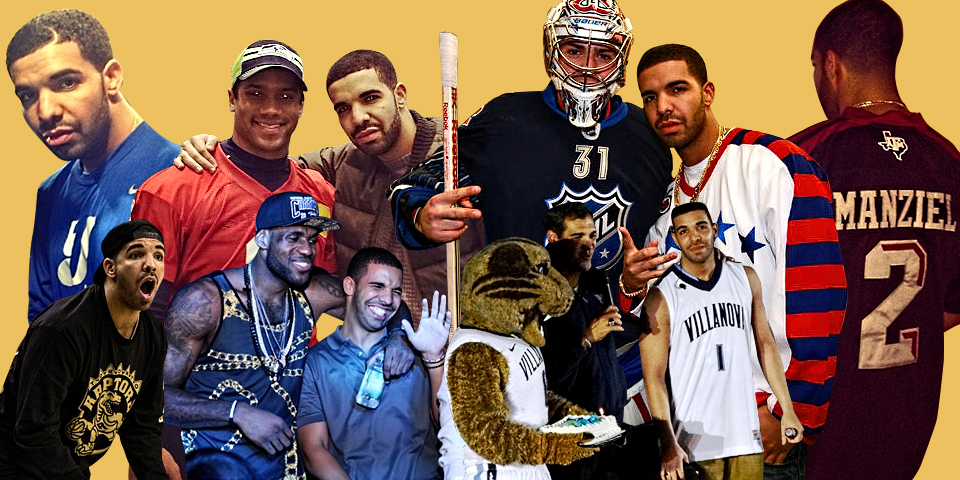 Image Via: Dunk360
The evolution of Drake's influence in the sports world, particularly in the NBA, began with his sharp rise to fame after releasing his third mixtape "So Far Gone" in 2009. He catapulted into the mainstream limelight and as Drake raps in "Ignant Shit," he was on his "Rookie of the Year, '06 Chris Paul shit."
Sports, women, and growing up Jewish are the former actor's favorite lyrical subjects of choice. There are literally too many sports and NBA references in Drake's discography to count. His go-to is Jordan (MJ in every way, I just don't fade away.) but Kobe, Iverson, Curry, Shaq, Harden, Durant, and of course LeBron have all had their 15 seconds. Drake thinks "sports and music are so synonymous. 'Cause we want to be them, and they want to be us." Facts. Didn't Master P sign an NBA contract and isn't Damian Lillard droppin' dimes, droppin' dimes?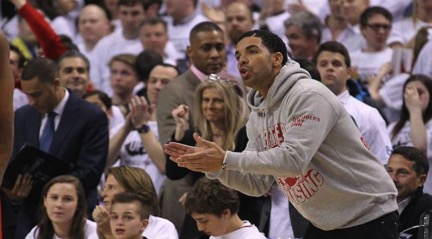 Image Via: Getty Images/ Credit: Claus Andersen
Drake for sure wants to be an NBA player in his next life. He attends more NBA games in a season than the revolving tenure of some NBA coaches. He's had a courtside seat at nearly every arena in North America; The University of Kentucky (where he infamously air balled a jumper), Miami Heat (where he proclaimed "I am media" after being denied entry to the Heat locker room after the 2013 Championship game), his native hometown Toronto Raptors (when Drake double-teams Bulls' inbounds pass to force 5-second violation), basically every All-Star Game ever (including assisting Terrance Ross on court during the 2014 Slam Dunk Contest), etc.
He gained notoriety, eventually appearing on Sports Center and hosting the ESPYs. His ascension didn't come without some heat. The internet, along with the emergence of "NBA twitter," will make a Drizzy meme and put a crying-Jordan on Drake at a moment's notice.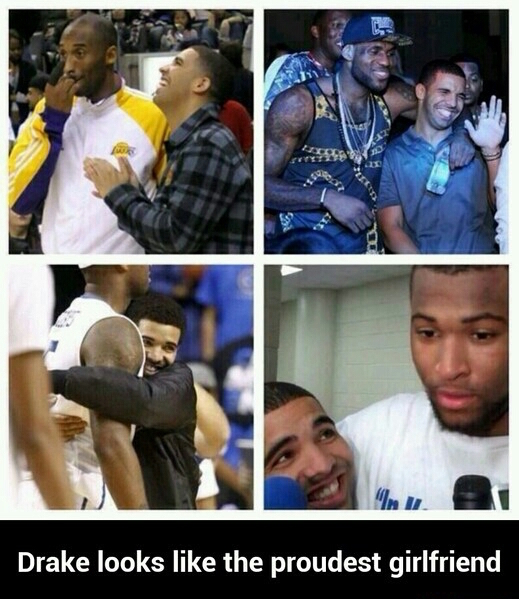 Drake finally addressed that noise in 2014, "Well, first of all, I'd like to say that despite what everyone on the Internet thinks, I do not team jump. In the past I've always supported the player and not the institution—unless we're talking about the Kentucky Wildcats and the Toronto Raptors; I will never stray from them. But whether it comes to soccer or football or basketball, I have a lot of friends that play for a lot of teams. I'm not team jumping. I'm a supportive friend."
Simply "supporting friends" and watching the game wasn't enough so the rapper got involved in the action on the operational side. In 2013, Drake became the Toronto Raptor's "Global Ambassador." A vague-ass title with no true job description. But, unlike the Heat locker room, it gave him the key to his hometown team.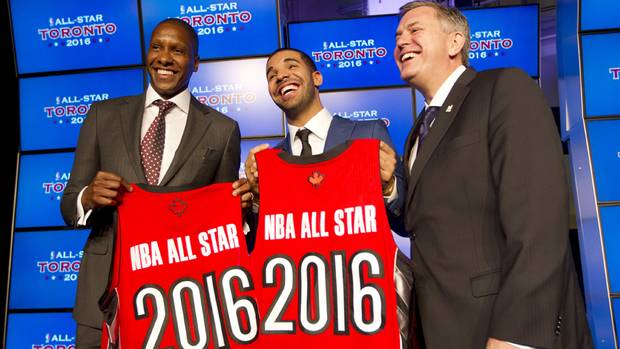 He'd be the face of the first ever All-Star game in Canada, rebrand the Raptor's image, and launch a clothing line in conjunction with the team. Fast-forward to today, the Raptors have Drake OVO-themed Jerseys, a fan-enthused "Drake Night" honoring the "Hotline Bling" singer, and a super successful ASW in the books. During Valentine's Day weekend this year in T-Dot, the former Degrassi star served as Team Canada's Celebrity Game Head Coach, introduced the starting line-ups for the All-Star Game, and was present at basically every other related function throughout the entire weekend (including photobombing the most epic LeBron Kobe photo ever).
The Raptors hit 50 wins this season, a first in franchise history, and were seated the highest ever going into this year's playoffs. Last night, Toronto won its first playoff series since 2001. Obviously the team's success this season can't be fully accredited to Drake. "In a weird but undeniable way, the 29-year-old rapper is responsible for pushing a momentum into a franchise that's resulted in all sorts of positive movement for the organization," writes Adam Figman in this month's SLAM Magazine cover story featuring the rapper (only the second time SLAM has featured a non-basketball player on the cover in almost 200 issues).
Damn, Drake is one busy guy. Between running through and running the 6ix, he still has to make time for recording music, romancing BBWs, and maintaining all of his many sporting alliances. We, as fans, should be thankful Drake is as passionate about basketball as he is.
That last statement was said with some sarcasm, however I do think his value to the NBA is considerably understated and underappreciated. As much as the internet loves to make fun of Drake for being a ride-or-die for every team and player, Drake can sacrifice himself for memes and still be irreplaceable in sports culture. Meek Mill, on the other hand, can't say the same.
In the ever-changing environment of sports media and audience attention spans, the NBA needs Drake. The global star only promotes the NBA's agenda by attracting his own international fan base to the game that widens the NBA's audience. He furthers the NBA brand by outfitting the Raptors organization and rejuvenating the team's image. And he also continuously and relentlessly perpetuates basketball in his lyrics and in pop culture.
Back in the negative eleven-degree wind chill, the Toronto scene and the Raptors franchise are heating up. The fuel to the fire? The Six Man and the irrefutable Sixth Man.
Read Next
https://uat-blog.finishline.com