This Week in College Hoops: Must See! The Battle in the Desert
Must-See Game:
No. 2 Arizona (23-1) vs. Arizona State (18-6), Fri., 9 p.m. ET, ESPN
There are a couple times each year when everyone you know becomes a college basketball expert, even if they haven't seen a game all year: the first four days of the NCAA tournament, and when Duke plays North Carolina. With the Super Bowl fading from everyone's minds – thankfully – the sports hype machine will zero in on Chapel Hill this Wednesday.
But Duke-UNC is not even the most must-see matchup in the ACC this season; that occurs the following week, when Syracuse comes to Cameron Indoor Stadium. (Finish Line blog spoiler alert!) There are plenty of equally compelling stories this season, including one of the best teams in the country needing to adjust on the fly.
Arizona's loss of Brandon Ashley to a potentially season-ending foot injury was more impactful than it looked on the surface. After all, Nick Johnson is Arizona's best player, Aaron Gordon the most dynamic, T.J. McConnell the best playmaker.
But though Ashley doesn't lead the Wildcats in any statistical category, his versatility tied everything together. A dangerous stretch four, Ashley was part of a big front line that now appears less imposing, and his absence depletes a roster that wasn't particularly deep to begin with. It's kind of like how Duke lost Ryan Kelly to injuries each of the past two seasons, and their slippage demonstrated just how important he was.
Ashley went down against Cal during Arizona's first loss of the season. They were then taken to the limit by an Oregon team that has lost eight of its past 10. But freshman forward Rondae Hollis-Jefferson did a nice Ashley impression in his first start of the season, and Arizona's defense still looked solid — Pomeroy ranks the Cats first in the country in defensive efficiency.
The Wildcats are still loaded, and it'll be fascinating to see whether they regain their stride and remain a potential Final Four threat going forward. Arizona beat Arizona State handily at home about a month ago; they head an hour and a half to Tempe as a different team.
"Tonight's game is a real tribute to the team that we have in that it took a lot of resiliency on our part, a lot of belief and toughness because things weren't going our way," Arizona coach Sean Miller said after beating Oregon.
Whether Arizona can maintain that toughness in the face of adversity will be a big factor in the National Title race.
ALSO BE SURE TO CHECK OUT:
No. 11 Duke (19-5) vs. North Carolina (16-7), Wed., 9 p.m. ET, ESPN
Never mind the contrarian stuff up above: Like Yankees-Red Sox, Pacquiao-Marquez and Michigan-Ohio State, Duke-UNC is always worth watching. Jabari Parker has kicked it up a gear for Duke's top-ranked offense, while North Carolina has bounced back from a tough stretch with five wins in a row.
No. 3 Florida (21-2) vs. No. 18 Kentucky (18-5), Sat., 9 p.m. ET, ESPN
With a 10-0 record in the SEC, high-flying Florida and Finish Line favorite Chris Walker get their first crack at preseason conference king Kentucky and its cadre of elite freshmen.
PLAYER OF THE WEEK: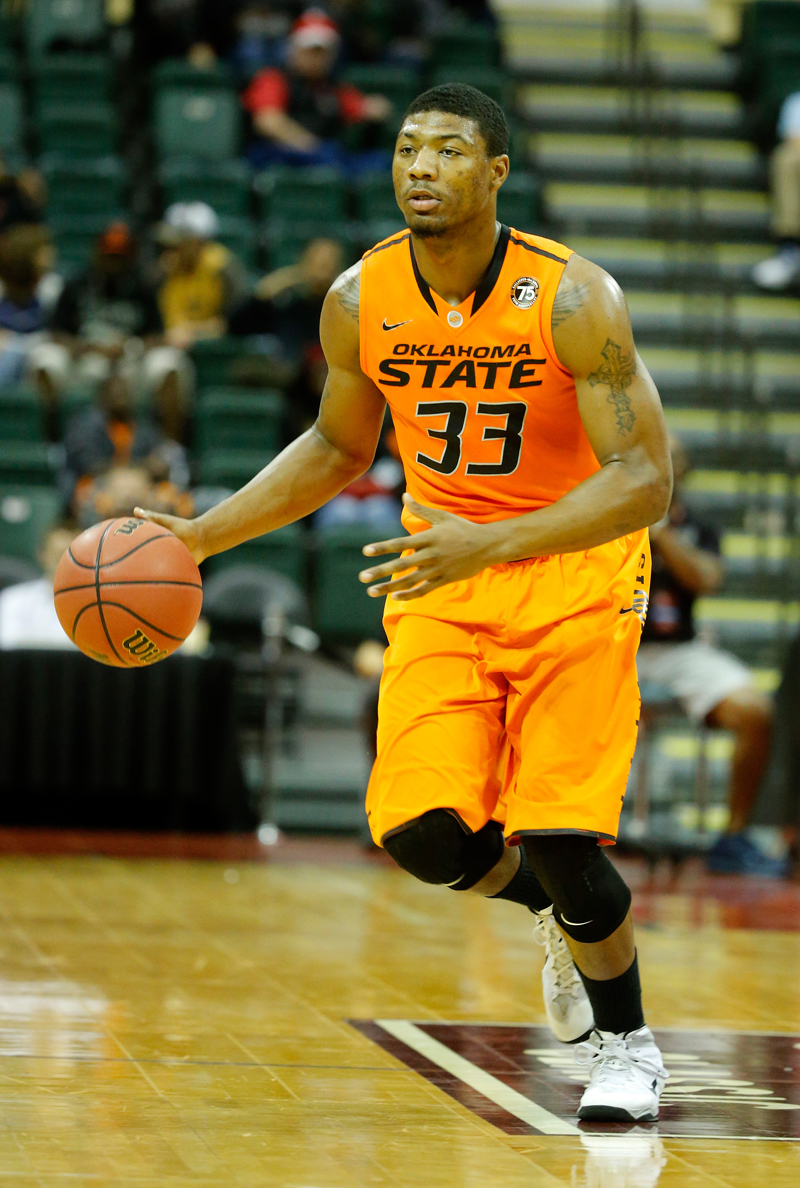 Consider this a vote of solidarity for Oklahoma State's Marcus Smart. Should Smart have shoved a rabblerousing fan? No, but when it comes down to it, that's all he did. There was no physical harm – just a purposeful push to a guy who, depending on what he said, likely deserved a bit of a comeuppance. Not to glorify or justify physical violence, but that doesn't mean we can't empathize with someone who has thrived despite a childhood rife with tragedy, turbulence and danger. If that means he has a decided lack of patience when it comes to unsavory characters, well, so be it. And if anyone deserved a proverbial slap on the wrist, it would be Smart, who has presumably learned a valuable lesson and is on his way to bigger and better things.
SNEAKERS OF THE WEEK:
Aaron Craft vs. Purdue, Feb. 8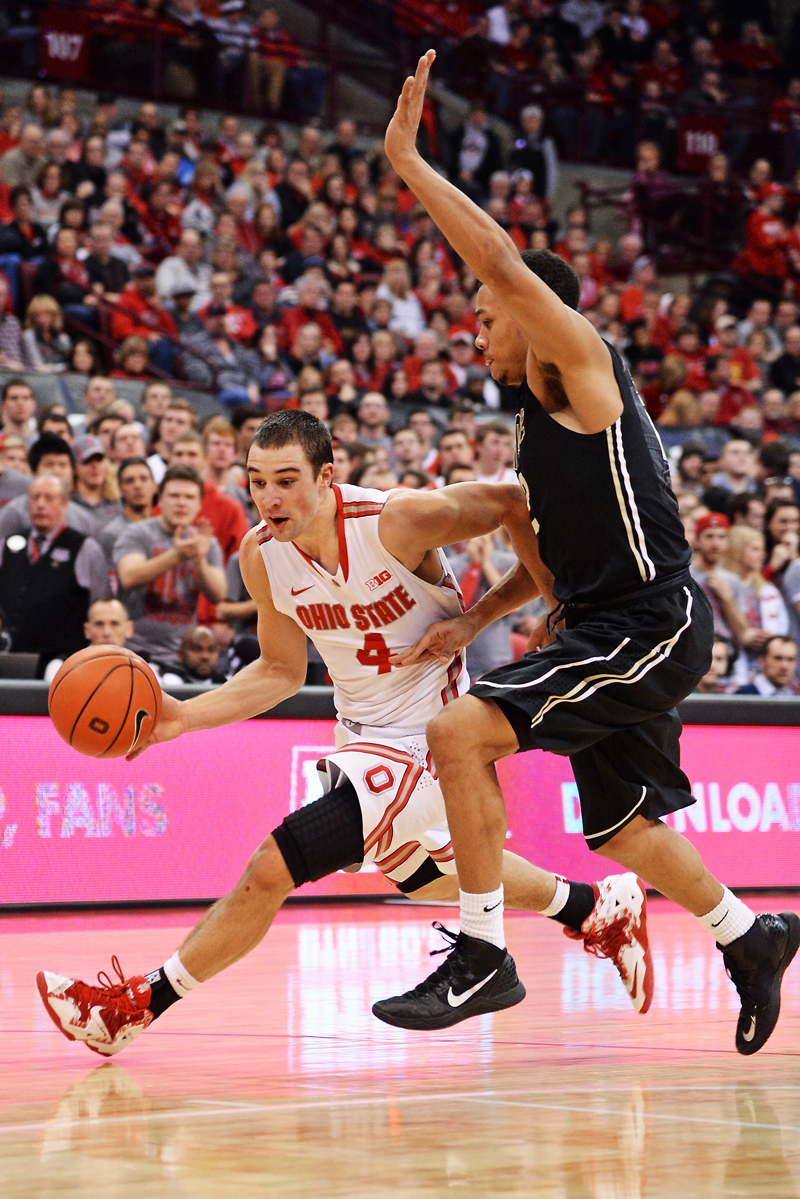 LeBron James never played in college, but he has obvious ties to Ohio State; his logo has been on their jerseys in the past. As such, it's no surprise to see the Buckeyes' bulldog defender wearing a sweet pair of LeBron XI's.
Sports enthusiast, Bryan Horowitz, has written for Dime Magazine, The Classical, and Vice. Give him a follow @SportsAngle.
Read Next
https://uat-blog.finishline.com