Swag Like None Other: Swaggy P and adidas Create The Epic Finish
Style is an individual pursuit and nobody exuberates his own style like Nick Young. The self-appointed "Prophet of Swag" has become one of the NBA's most popular personalities on and off the court. Swaggy P has never been one to shy away from having all eyes on him, whether he's giving the defense buckets or showing off his outfit walking into the arena. Over the years Young has become a photog favorite with his energetic personality and one of a kind style that only he can pull off.
Growing up in West L.A. his style was influenced by going from the hood in West L.A. to the suburbs in the Valley and getting the best of both worlds. Los Angeles has a reputation for being a tough place to make it on your own. The large population mixed with many diverse personalities can have a large influence on people to want to conform to everyone around them but Swaggy P created his own persona. Over his NBA career, Young has never been one to hold back from wearing dope kicks and pass on shooting the big shot. Back in January Young let the world know that he had signed with adidas by breaking out a pair of Yeezy Boost 750's in an NBA game. As most sneakerheads we're freaking out that a highly coveted shoe was being played in; Swaggy P was doing what Swaggy P does. Young's style is just like his personality, original.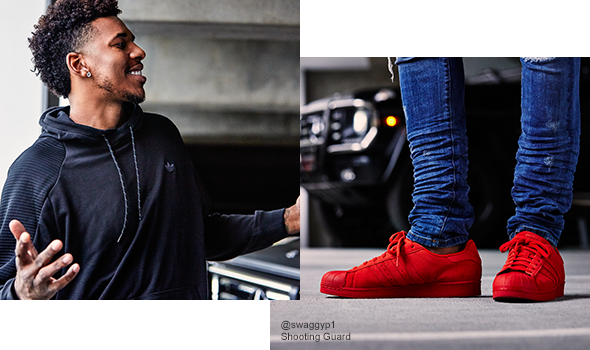 Young has the ability to pull off any outfit that he thinks of. That could be some destroyed denim jeans and a hoodie with a clean pair of adidas Superstars or one of his paparazzi worthy pre-game suits. There isn't a style that Swaggy can't pull off and that is something that he prides himself on. Swaggy is as confident with his style as his is with his cross-over jumper and that nobody is touching his game. His individuality keeps him original. Whether he wants to be a showstopper or just kick it and be comfortable, his mood dictates his style.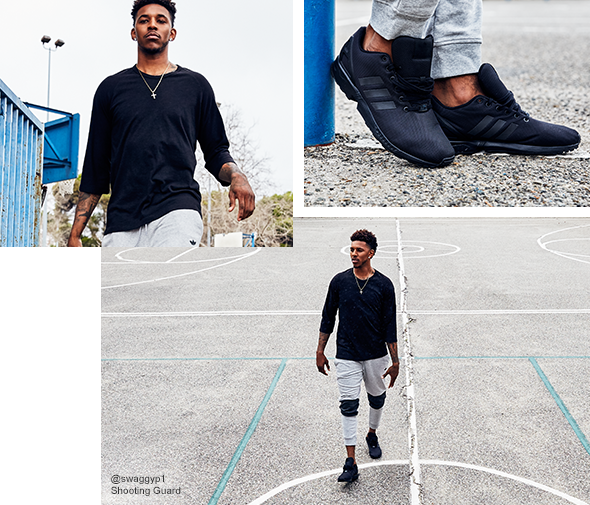 Every day is an opportunity for Swaggy to make and impression and he takes advantage of that. He went back to his childhood gym where he developed his game as a kid. No matter how big-time he is, Swaggy doesn't forget where he came from. Since he grew up in L.A. he has close ties to the community and knows his roots run deep. Young says his style is a mash up of Michael Jackson, Pharrell, and Kanye West so his ability to want to go all out with an outfit but stay clean is an easy task with some adidas Originals. A subtle fit of some Luxe Joggers and clean ZX Fluxs keep him comfortable and stylish for any occasion.
Read Next
https://uat-blog.finishline.com