If you've been keeping up with the NBA then you already know that nobody is hotter than Chef Curry. With his underdog story of being to small to make it in the NBA and having the odds stacked against him, Stephen Curry has rocketed to stardom. Not many players can pull up for a quick three on a fast break and whether they make it or miss it, still hear the fans cheer. Whether you watch him sitting courtside in the arena or from your couch in front of your TV, you hang on the edge of your seat to see what flashy play Curry will come up with next. After winning the NBA MVP award and NBA Championship last season, what can we expect out of the superstar this year? Check out some of his best games last year in some of his sickest footwear.
The first quarter ended up with Dallas dropping 42 points, and hopes of the Warriors winning seemed to exit the arena as fast as the fans got to their seats. From that moment on Steph Curry took over and the Warriors didn't lose another quarter. Curry went off from beyond the arc, going 10 for 16 from deep is insane but finishing 16 for 26 was a statement by Curry. The All-Star point guard put on a dazzling dribbling display to match his streaky shooting stroke, scoring 26 points in the third quarter alone to help the Warriors get the W. He did all this while rocking the Under Armour Curry 1 "BHM", since it was February the footwear was fitting.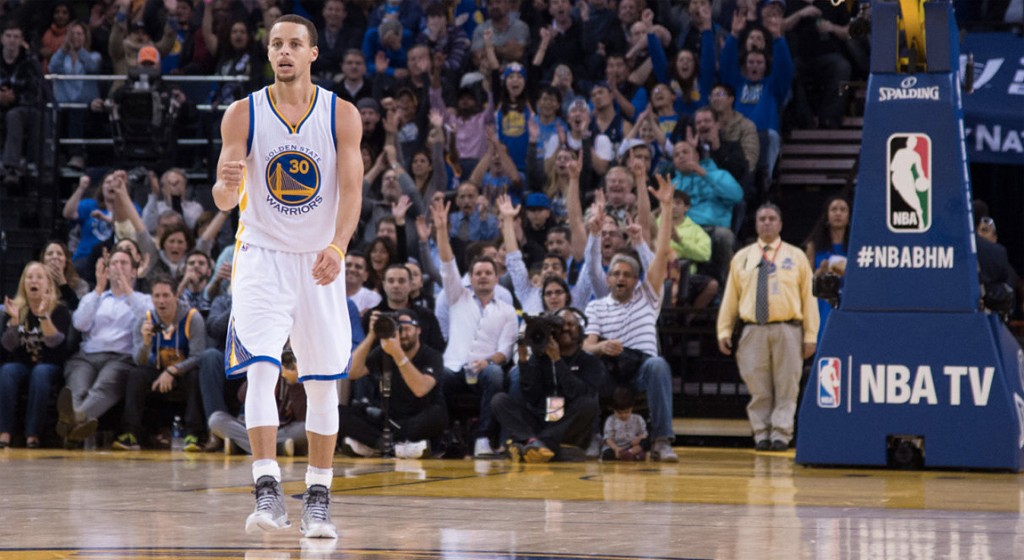 If you didn't watch this game then you definitely saw the highlights of Curry breaking CP3 with a baseline behind the back dribble. Once CP3 hit the deck Curry pulls up for a short midrange jumper, that had to feel like salt in the wound for Paul. We still don't think Chris Paul has fully recovered yet but if you didn't see it then check out the clip below. This was another battle between the Clippers and Warriors that we have come to love as sports fans. Even though the Warriors had locked up a playoff spot in the West, they came out firing and wanting a win. Stephen Curry went a "modest" 8 for 15 from the field and 4 for 6 from deep. Talk about consistency. Stephen Curry honored his team on his feet this game with the Under Armour Curry 1 "Dub Nation", which is decked out in Warriors colors. Even on the road you gotta rep the city that has shown love for him since he was drafted.
What started as an even match quickly turned into a lopsided event after the first quarter. The Warriors came in with a 2-0 series lead, so the Pelicans came out hungry for a victory. It seemed like everything was going the Pelicans way this game until the fourth quarter, Golden State started playing like the team we know. The Pelicans thought they had a victory, but with 4.6 seconds left in the fourth and down by three, Curry got his hands on the ball in the corner and knocks down the triple while being run over to tie up the game. Once overtime started it was neck and neck until the final buzzer, but Golden State pulled away. Curry put up a solid stat line of 40 points, 5 rebounds, and 9 assists while wearing the Under Armour Curry 1 "MI30". It seemed like it would be impossible for the Warriors to win but when you have Stephen Curry on your team; nothing is impossible.

This series was a battle of two of the best shooters in the league and the two guys who battled for the NBA MVP. Golden State came out of the locker room on fire this game, like they had been the first two. You could tell from the very beginning that this was going to be a big game for the Warriors. They came out firing, dropping 62 points before half time and going into the second half with a 25-point lead. After the game, Warriors head coach Steve Kerr was asked about Currys performance and he was quoted saying "Steph was Steph," he put on an electric performance yet again and was one step closer to the NBA Finals. He rocked some footwear that we hadn't seen before, the Under Armour Curry 1 "Black/Yellow" PE. It wouldn't be the last time he would wear these in a big game, we saw them again during the NBA Finals as he raised the Larry O'Brien trophy.
The Warriors came into Game 5 in front of their hyped home crowd, hungry for a win. Neither team could pull away, ending the first quarter tied at 22 and then going into halftime with the Cavs up by one. Once the third quarter rolled around, Chef Curry came out hungry for the rock. SC30 went 7 for 13 from behind the line but that wasn't the highlight of this game. On two different occasions, Curry makes Matthew Dellavedova look like he's on skates with shake and bake moves that you're used to seeing in an And1 mixtape. Not to mention that each time he would drop the dime over him, which was the icing on the cake. Coincidentally he was rocking the Under Armour Curry 1 "Splash Party" which was specially designed to celebrate his birthday earlier in the year. Even though his birthday was back March, Curry must have felt like going off making game 5 a party.

Maybe LeBron shouldn't have given Steph props on giving his Mario Chalmers 3 hezies. If LeBron gave Steph props on shaking Dellevadova he learned not to do it with cameras around. It's not every day your competitions calls you a "Bad Dude".