Designing the Under Armour Curry 2.5
Nothing can be missed when it comes to designing a shoe for one of the biggest names in the game. The basketball division at Under Armour teamed up with Steph Curry last year for his first signature shoe with the brand, the UA Curry 1. By now you know the story of how Curry won the MVP and NBA Championship all in the same year. That gave UA and their footwear team the opportunity to capitalize by making special editions for those monumental achievements. After the Curry 1 became a sneaker sensation, Under Armour had to figure out how to make the next installment in the MVP's line better than the first.
The UA Curry 2 was very similar to the first version, but had some major upgrades to the on-court gem. Curry and the Warriors dominated this NBA season by breaking the best regular season record of 72-10 that was set by the Chicago Bulls back in '95-'96. Midway through the season Steph started wearing the UA Curry 2.5 and had us all wondering what UA was up to with his sneaker line. The UA Curry 2.5 was designed to mimic Steph's style of play on the court. The design was inspired by a diamond, which has five-points of pressure that work together, like a basketball team. When those five players work together, they become an unbreakable bond. UA put that same aspect of strength and cohesiveness into the design of the Curry 2.5.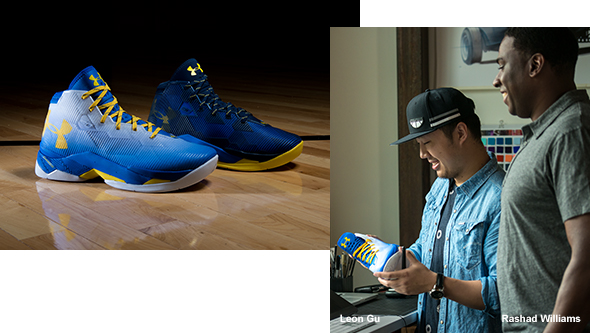 There are special features and design aspects that make the UA Curry 2.5 '73-9′ and 'Dub Nation' special. The '73-9′ colorway is the actual colorway that Steph wore when the Warrior's broke the record. The Bay area is known for the Golden Gate Bridge and that cable design is shown on the upper of the shoe. If you've seen the shoe and wonder what the point of the dots on the heel are, they are actually map coordinates for the arena that the Warriors play in. They pay homage to the Bay Area and their fans with subtle details.
Read Next
https://uat-blog.finishline.com