Mache Custom Kicks Giveaway
Creating custom designed kicks, or as we like to say, signature works of art, is Mache's skill, his expertise, his passion. With shoes as his canvases, he fills the sneaker industry with color through his entrepreneurial company, Mache Custom Kicks. You couldn't ask for a better guy to design a shoe-masterpiece. Lucky for Finish Line, we got Mache, himself, to create a custom pair of adidas Hardcourt Hi's, and lucky for you, we're giving them away.
ENTER TO WIN
Comment below with a link to an adidas apparel item, that you would hook with these custom Hardcourt Hi's for a chance to win them.
Learn more about Mache and his customized Hardcourt Hi's.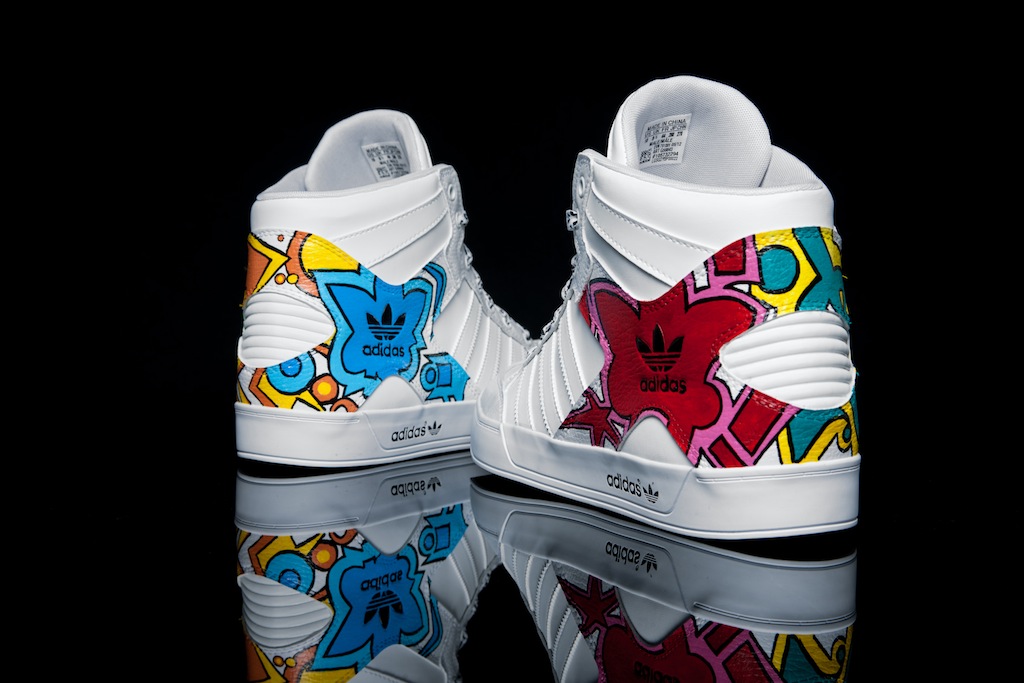 Tell us about the inspiration behind the design on the adidas Hardcourt Hi's exclusive design for Finish Line?
When I started customs 10 years ago, it was all about self expression and all I did was handpaint customs, no airbrushing, and generally on all white sneakers. The hardcourt high took me back to that place, so I decided to go back to the '90s style graffiti design against the stark white canvas. I liked how the colors popped against the contrast of the white. 
Walk us through the process of customizing these sneakers.
I know a lot of artists may do a photoshop mockup to see how to lay it on a shoe, I just take the theme and run with it. Customization is supposed to be a form of expression and what better way to express yourself than by just jumping in? There's prep involved to get the shoe ready, and of course then there's the artwork, then finally sealing the final product up for wear. That's the abbreviated version!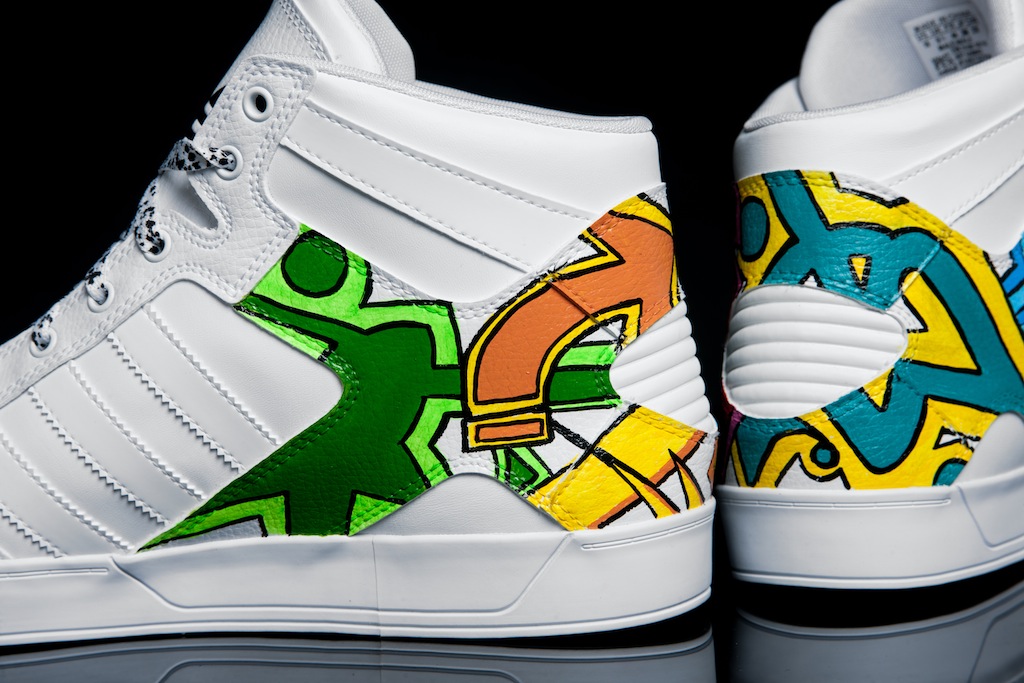 How did you get started with designing Custom Kicks?
I was always into art and sneakers. Ten years ago, I read an article on custom sneakers and my competitive self said, "I can do that," so down I went into my mom's basement with some beat up sneakers and acrylic paint and went to town. In hindsight, they were pretty bad but over time I got better. That's how I started. 
When did you realize this would become a successful business for you?
It's a tough call, any time you leave the safety net of a nine to five to try to do anything on your own, its a risk. I just felt that the orders were piling up and it was time to devote my time and efforts on just that. I'm definitely happy I took that risk! 
What's one collaboration you've done that made you realize you've made it big?
This past 12 months I've had the opportunity to work and build relationships with many notable artists and athletes. It would be hard to pick one, but the attention from the job I did with Lebron James definitely got me a lot of notoriety.
Who's one athlete, artist, or celebrity you haven't done a collaboration with yet that you really want to make happen?
I really consider each collaboration a blessing, over the years I've had a LOT of blessings. But one person I still want to work with is Jay-Z. Growing up listening to his music and also watching him turn his passion into a business that is profitable is inspirational to say the very least. I'd love to work with him and also just pick his brain about life and of course how he made it.
Read Next
https://uat-blog.finishline.com