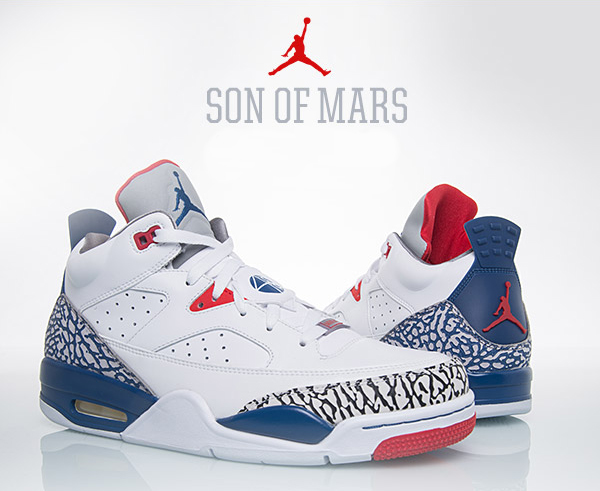 How do you take retro sneakers and update them while maintaining the nostalgic look? Mash them up.
Jordan Brand didn't just pull the Son of Low together without some careful thinking and immense amount of inspiration. They turned to one of their biggest fans, Spike Lee, as the driving force. Selecting his favorite shoes from the signature line, the company took to crafting a one-of-a-kind sneaker to commemorate Lee's allegiance to the brand.
In total, the Jordan Son of Low is composed of 4 different sneakers: the Jordan 3, 4, 5 and 6. Unsurprisingly, in each of these campaigns for these signatures, Lee was a fixture.
Starting from the bottom, it's a no-brainer that a Jordan 4 outsole is used. Standing out as one of the best and most used outsoles, it's no surprise that Spike went with that to get things going.
From there going up, we see elements of the Jordan 3 making an appearance, providing elephant print on the toecap and heel counter, and also donating its mudguard to the hybrid sneaker.
The Jordan 6 is the inspiration for the side panels. Rumor has it that the designer of the Jordan 6, Tinker Hatfield wanted to somehow display the number "23" on the shoe, and if you look closely at the sides of the shoe, you'll see it. The Jordan 6 also lends it's lacelock to the Son of Low, featuring a nod to Spike Lee.
Going up the shoe, it's all Jordan 5 as we get a glimpse, featuring the 3M material and overall shape. True to the Jordan 5, an embroidered tongue is also used on the sneaker, wrapping up the Son of Low's inheritance from the Jordan 5.
Before we forget, the Jordan 4 lends its heel tab to the Son of Low for exclusive use. Abandoning a traditional pull tab, Tinker Hatfield went with a plastic tab that initially provided discomfort for Jordan, but has been redesigned with that in mind.
Although retros are king in the Jordan realm, hybrids are definitely ones you should keep in mind. They incorporate elements from those to come before it. In a special way, that makes them truly one-of-a-kind. Don't sleep on the Son of Low, cop them while supplies last.
Read Next
https://uat-blog.finishline.com