Indiana Pacers' CJ Miles Talks Air Force 1s, Jordans, And Keeping His Girl Fresh
We had the pleasure of interviewing Indiana Pacers' forward CJ Miles (@masfresco) and his fiance Lauren Smith (@LaurenSSmith). We asked a series of questions about their shoe game, check out the interview below.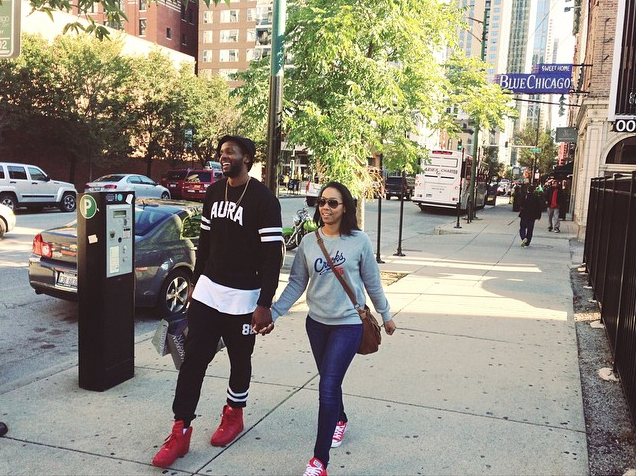 What got you interested in collecting sneakers?
CJ: "I think it's just growing up and a lot of basketball players that I looked up to had their own shoe, so thats back when the commercials were more creative, I feel like. And everything was just a lot more cooler about the way guys went about, you know, just dropping their shoes then. I'm not saying they aren't creative now, but I feel like then it was a lot different when I was younger, and I think just seeing my favorite guys have those shoes made me want those shoes, just kind of went off from there. It used to be all basketball shoes and then as I got older it kind of turned into SB's and things like that, but a lot of it started from my favorite players and their shoes and then just coming up and learning more and more about different sneakers and the way you dress kind of changed everything. The more my wardrobe changed, the more different shoes I kind of opened up to and I just started to collect from that."
L: "I think for me it was CJ, and the fact that I'm really just a tomboy, but CJ's love for sneakers kind of rubbed off on me and I just wanted to collect."
When did you first start collecting?
CJ: "I probably started seriously collecting my junior year of high school. That's when it really started to turn into a thing."
Do you remember THE shoe that you had to get that started your collection?
CJ: "I don't remember THE shoe, but the craziest thing is only like a couple pair of Jordans and Air Force Ones were big in my neighborhood growing up, so Air Force Ones probably were one of the most coveted, only because of the fact that the Jordan's were really expensive at that time. So Air Force Ones weren't as expensive and they were so big in the neighborhood. One, because of that reason and two, because their style was more the mid and high top and that has come back around now. Just Air Force Ones in different colorways, I would just get the solid colorways and change the shoe strings.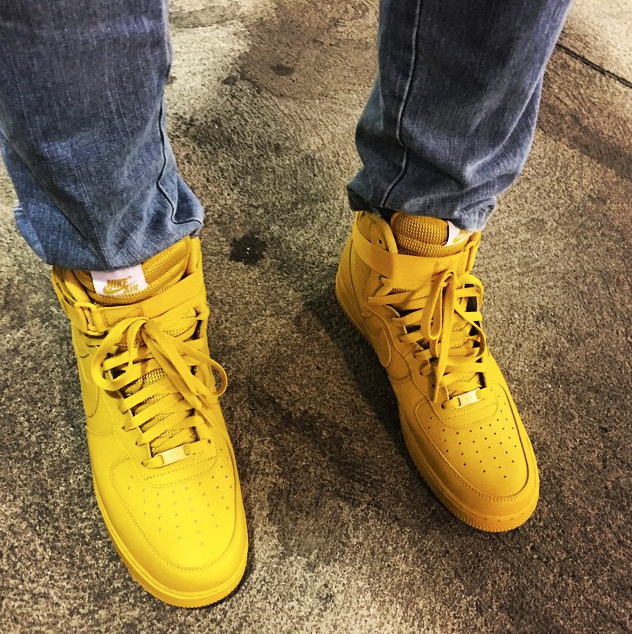 How many pairs of Air Force Ones do you have? Do you have every color way?
CJ: "Ya I got a lot actually."
L: "Too many."
CJ: "A lot of Air Force Ones and I think my love for the SB's, the skateboarding shoe, kinda came from that. Then the Dunks, they make more colorways of the high top sneaker, Air Force Ones kind of slowed down, they didn't make as many style types as time went on. They are kind of getting back to it now, 'cause I think that style is coming back because of the way that people dress. Definitely the high-mid Air Force Ones started it. Now I probably have, I don't know, I got a lot of solid colors and then I went on Nike ID and the ones I couldn't find, I made 'em."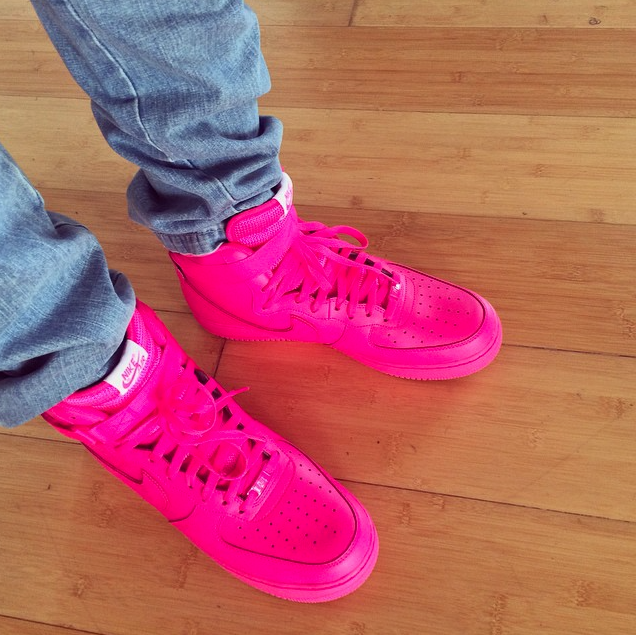 What's your favorite pair that you currently own?
CJ: "I don't know, that's a tough question. I guess the ones I probably wear the most are my Jordan 6s, but not the "Infrared" ones, the original black and red ones, I had a couple pair of those. 'Cause I don't like the way the "Infrared" looks on the 6s now. Those are another pair of shoes for me, that I've gotten dirty over time and I think, the things I love the most about like my OGs, the sneakers I've had for a while is the yellowing. When the rubber starts to turn yellow at the bottom, I think that's the best part of sneakers. Once you've worn them a little bit and had em for a while. You can tell the amount of time you've had them. I don't believe in buying them and not wearing them, I get 'em to wear 'em. I don't get 'em to just put 'em up." 
L: "My favorite pair are probably the "Cement" 3s, just because they are the cutest style on girls and you can do so much with them, it's a versatile shoe. You can get those ones dirty and they still look dope, it's ok. Those or Chucks are the only pairs that you can get dirty and no one is gonna look at you crazy."
How many pairs do you have and how many do you actually wear?
CJ: "No idea."
LS: "The number that he has is sickening."
CJ: "I wear a few of those."
LS: " Ya, I mean he wears a lot, but it's not even close, it's bad."
CJ: "I would say a couple hundred"
LS: "That you own?"
CJ: "Nah, that's in the apartment right now, not including the ones that are in storage. There's probably a couple hundred here right now."
LS: " Ya, and you probably wear like 20…maybe. I don't have as many as CJ, I would say like, I don't know, probably about 50."
CJ: " No, no, no, that's not true, it's closer to 100."
LS: "Is it? Well see when I moved I only got to bring like certain pairs of sneakers with me, I had to decide, it's the worst. I had to make a decision and some had to stay home. He says it's close to 100, but I don't agree. I try to wear all of them at least once. I think the only pair of shoes that I've only worn once and then never worn them again are the all gold SBs, but I try and wear every shoe at least once." 
What pair of shoes do you wish you had, but don't? 
CJ: "All of the Oregon Jordans that came out. The 3's, the 4's, like any of the Oregon styles. I could never get any of those. No matter, i'd come close with some sneaker guys at the store, but they could never get to them fast enough. I haven't got any of the Oregon edition shoes that have dropped." 
L: "The only pair that I really, really want that I never had are the "Bred" 11s and the "True Blue" 3s, those are the only two pair"
When a new shoe comes out, have you ever tried to trade for them or do you just go out and cop em?
CJ: "I've never done any trading, I haven't been in a situation where I felt like somebody had a shoe that I felt were worth a couple pair of mine. Like unless there is someone that has the Oregon ones and wanted to trade for something, that's probably the only time I probably met something that was that hot or high stakes where I had to do that."
Do you have a shoe horror story about ruining a nice pair of kicks or something? 
L: "No I don't think so, I can't think of anything"
CJ: "Umm, I stepped in a big puddle of mud, back when the Kanye shoe, when he first released the Louboutin, the all red ones. It rained that day and I think we came back from somewhere, I was riding with my mom. She parked and I guess I didn't realize she parked that far or that close to where the grass and the curb met, and I stepped out of the car right into the grass and the mud. It was bad man, like I couldn't even bring them back. I tried cleaning them every type of way, like it was my whole foot down into the mud.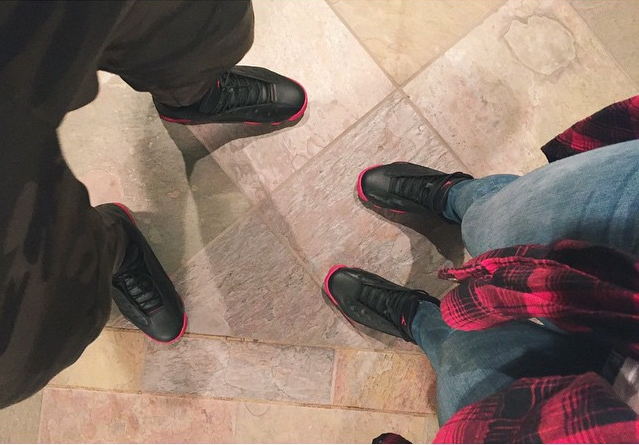 Lauren do you ever stunt in his shoes? 
L: "Ya, no, I've never done that, I have actually one time wore his shoes around in the hotel. Ya that was awkward, I looked like Tweety Bird out there. 
Is there a pair of her shoes you wish you could wear?
CJ: " I think for the most part everything she's got I have. Only because a lot of the Jordans that come out in the girl colors, she doesn't get em. She just gets the boy colors, she just gets the same ones as me. There have definitely been a couple of Jordans in girls colorways that I wish they made boys color ways. But I don't think that she has a pair that I would want to take or have just because we have all the same ones. Most of them.
When a shoe comes out that you think are real hot, do you guys ever talk about it or is it just unspoken and you're both like ya were getting those?
LS: "Usually what happens is CJ will show me a picture of it and ill be like 'oh ya those are cool and he'll just get it or he'll surprise me with the pair, but other than that, that's usually how it works. Or I'll see something on Twitter, like I'll see on release day on Nice Kicks or Kicks on Fire, they'll tweet something and I'll be like 'ohh i want these' and then he'll usually get it."
CJ: "That's usually the case, like I'll follow all the sneaker blogs and stuff like that on social networks, just being on the internet and different websites and stuff, decide what I do and don't like. Because it used to be to a point at one time when I was like 'oh I gotta get it'  was like the competition to be the sneakerhead, you gotta get everything that comes out. You gotta have everything. Now I've gotten to a point now where if I don't like it, I don't like it. I don't get it just to get it."
Read Next
https://uat-blog.finishline.com