Holiday Must-Haves From Our Finish Line Women
It's the most wonderful time of year when the possibility of receiving new sneakers and athleisure styles are in the cards. This holiday season, we wanted to see what some of our Finish Line Women had on their wish lists and get into the spirit of giving with must-have items. Whether it's for the rest of the season or ringing in the new year, we know these looks will be popular for your lifestyle too.
Professional dancer, @montanaefaw knows she can always bust a move in Nike:


Nike Air Huarache Run Ultra– I love this fabric texture! It's a fun twist on this shoe style and I can wear it for dancing or normal life. 
Nike Leg-A-See Just Do It Leggings– after wearing spandex in the studio all day, a comfy pair of soft leggings is everything. And I love the bold branding on the side of the leg. 
Nike Pro Indy Sports Bra – because an athletic girl can't have enough sports bras and a black sports bra can go with anything or worn on its own. 
Nike Sportswear Rally Hoodie – I love this loose turtle neck hood. Great for layering under a bigger, outward jacket for the colder months. It's a pull over hoodie but has pockets like a zip-up for different detail. I also wear a lot of dark colors, so a pop of red is fun to brighten up an outfit.
Model, @kaitfitzy is all about walking the streets in adidas: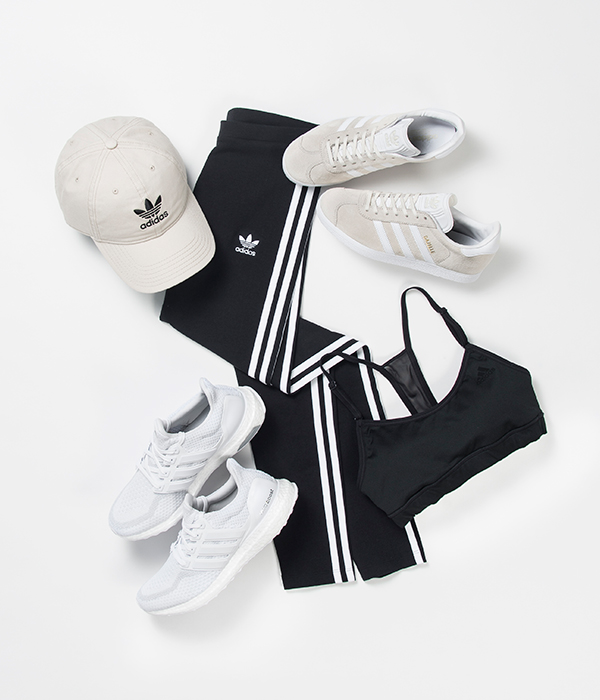 adidas Gazelle Casual Shoes – love this style as a basic staple for fall/winter. It's also a better match for when I want to show off my socks 🙂 .
adidas Originals 3-Stripes Leggings–  love wearing leggings for all types of street looks and working out.
adidas Originals Precurved Washed Strapback Hat– I'm all about hats and neutral tones. I love how this can add a sporty vibe to any outfit.
adidas Strappy Sports Bra– This cut is everything and I always turn to a good black sports bra all year long.
adidas ultra boost running shoes – I'm all about the boost technology and this style is great for the streets, airport or gym. 
New York fitness blogger, @evannclingan knows what's up with Nike styles: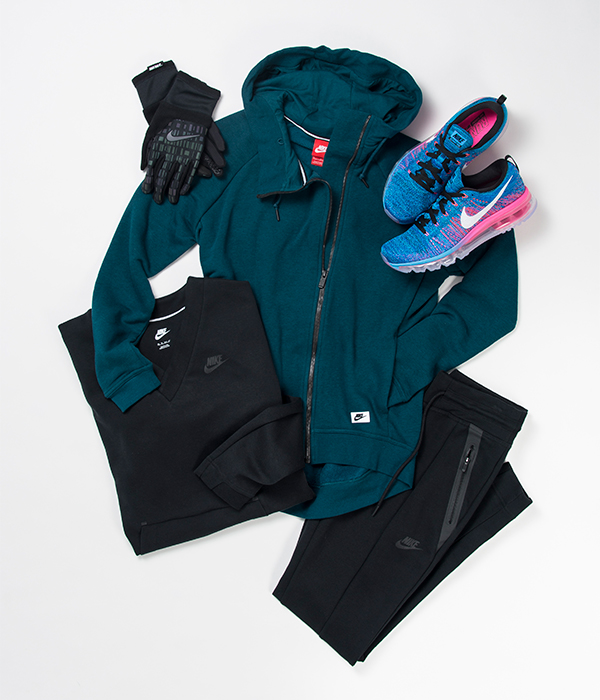 Nike Sportswear Modern Cape Hoodie – I wear my Nike Sportswear sweatshirts over activewear to get to boutique fitness classes or with jeans to meet up with friends. I love this turquoise color and the low hemline in the back.
Nike Sportswear Tech Fleece V-Neck Sweatshirt – This Sportswear sweatshirt is different than the styles that Nike has done in the past. The coral color is very feminine. I also like the v-neck and absence of the hood.
Nike Sportswear Tech Fleece Knit Pants – These joggers, especially in black, are a sleek alternative to regular sweatpants. The ribbed cuffs and bonded accent pockets add to their stylish, urban look.
Nike Flyknit Air Max Running Shoes – This shoe is the best of Nike — Flyknit meets Air Max. They're light, cushioned, and come in two vibrant colorways. These shoes would stand out on cold-weather runs.
Nike Vapor Flash Running Gloves – Quality gloves are a must for winter running. It helps when the gloves can wick away moisture and feature grips on the fingers, so you can still use your cell phone to play music.
LA fitness blogger, @melliecay is feelin adidas for the season: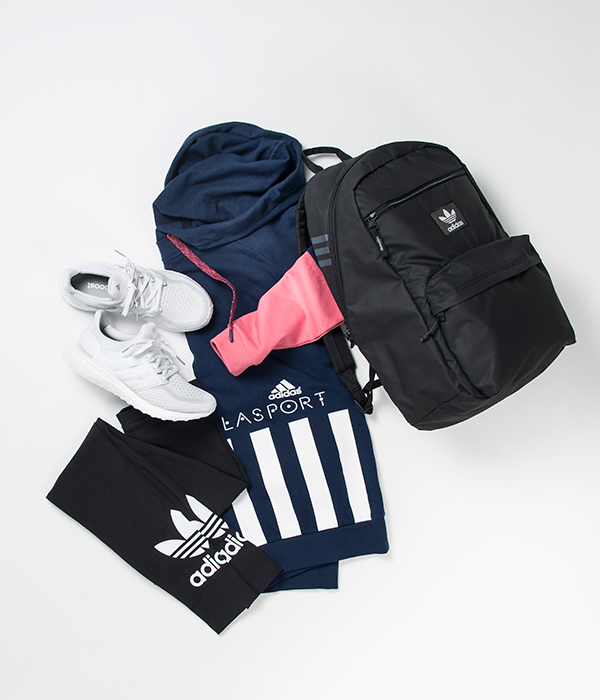 adidas Originals National Plus Backpack– Balancing work and working out isn't always easy. Having a functional and stylish gym bag makes it 10 times easier. I love this one because it's simple and can come along with me from work to gym to coffee shop.
adidas Ultra Boost Running Shoes– The Ultraboost have become my new favorite running shoe. I particularly love the white/white/white because I'm constantly on the go. Since it looks good with EVERYTHING, I wouldn't have to carry different shoes with me.
adidas Originals Trefoil Leggings– Black leggings are always my go to. They go with everything, and make it easy to throw a jean jacket over and head straight to brunch after my Sunday morning workout.
adidas Stella McCartney Stellasport Long Hoodie– I have been loving the Stella McCartney line from adidas. This pull over is stylish and perfect for post workouts, but still subtle enough for casual Fridays to throw on when the air is too cold in the office.
Read Next
https://uat-blog.finishline.com