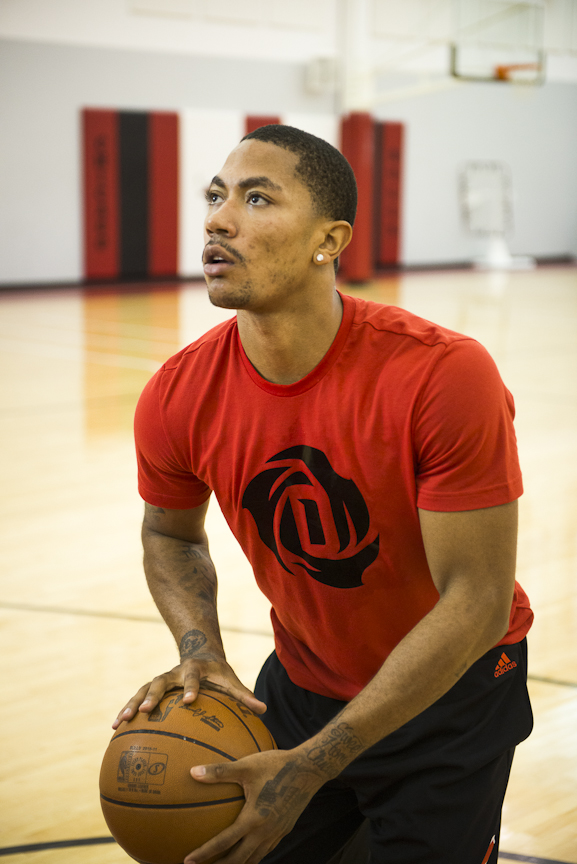 So rare a talent, so larger-than-life a persona, and yet so much left unanswered: Such is the story of Derrick Rose. It can go either way for the mercurial but oft-injured Bulls point guard, who has MVP ability, but the legs of Penny Hardaway and Grant Hill. The hopes of a jewel NBA franchise and its fans depend in part on which it is.
Before his knee issues began, Rose appeared early to be on the fast track to potential all-time great status. Hailing from Chicago, Rose has an innate toughness that comes from being a native of one of the toughest hometowns in the country. Well known before he even showed up at famed Simeon High School, Rose was Third-Team All-American by the time he was a sophomore and led his team to two consecutive state titles, a first for a Chicago Public League school.
Enticed by then-coach John Calipari to Memphis, Rose was an instant star at point guard, averaging right around 15 points per game. Memphis was 33-1 in the regular season and led by Rose, they stormed all the way to the National Title game, in which they lost narrowly to Kansas in overtime after Mario Chalmers hit a memorable three-pointer with 2.1 seconds left in regulation. Rose was tremendous, scoring 14 of his team's 16 points over one second-half stretch, but he missed some clutch free throws down the stretch as the Jayhawks overcame a nine-point Memphis lead.
(The Tigers' runner-up season was later required to be vacated because of questions about Rose's SAT score, and with his brother apparently traveling with the team for free.)
With little left to accomplish at college, Rose declared for the 2008 NBA Draft and was selected first by the hometown Chicago Bulls. He followed in the footsteps of Michael Jordan in several ways, joining M.J. and Elton Brand as the third Rookie of the Year in Chicago history, and becoming the first Bull since Jordan to score at least 10 points in his first 10 games. After scoring 36 points and dishing 11 assists in his first-ever postseason game against the mighty Celtics, it was quickly evident Rose would not just be a star in the NBA, but a point guard with virtually no peers.
Rose made his first All-Star team in 2010 and averaged nearly 27 points in the playoffs, but the Bulls were eliminated by LeBron James and the Cavaliers. His popularity, however, soared; Rose was Adidas' answer to Nike's James, and his jersey was among the top 5 best selling in the league.
The 2010-11 season was when it all came together. Rose led the Bulls to a Jordan-era type record of 62-20 and was named a deserving Most Valuable Player — at 22, the youngest in NBA history. James, however, remained a roadblock for Rose: His Heat, en route to the first of four consecutive NBA Finals berths, eliminated Chicago in five games in the East Finals.
Could it be that season was as good as it would get? Rose suffered a catastrophic left knee injury in the first game of the 2012 playoffs, and though it appeared he'd be able to return late in 2013, he didn't feel comfortable enough to do so. And his return in 2013-14 was cut short quickly with a meniscus tear in his other knee. Rose looked less than impressive in his stint with the gold-medal winning Team USA squad at the 2014 World Cup.
And yet, Rose is merely 26 years old, and if you squint hard enough, you still see flashes of the red rocket that appeared likely to join the absolute elite of the game. Perhaps his knees hold up long enough for him to finally shake off the rust. The Bulls are perennially a very talented squad, and if Rose can regain even some of his past mojo, the opportunity is still there to reap the championship glory that will take him to the next level.
"I just want to be healthy," Rose said before the 2014-15 season began. "I can care less about the awards or the accolades or whatever. I just want to win games. If winning games gets me to any awards, that's cool. But my biggest award is just winning a championship."
And yet? If that never happens, it's likely that people will think highly of Derrick Rose regardless, a la Penny and Grant. When all is said and done, we're always able to look back on what was, regardless of how long it lasted, particularly if it was as good as it gets.
Birthday: October 4th, 1988
Height/Weight: 6-foot 3-inches, 190 pounds
Twitter: @drose
Drafted: 2008, 1st round, 1st pick, Bulls
Teams:
Schools:
Simeon Career Academy (Chicago, IL.)
University of Memphis, 2007-2008
Awards:
NBA Most Valuable Player (2011)
Three-time NBA All-Star (2010-12)
All-NBA First Team (2011)
NBA Rookie of the Year (2009)
Third-team All-American (2008)
McDonald's All-American (2007)
NBA Statistics: 20.5 PPG, 3.7 RPG, 6.6 APG, 0.8 SPG, 45.6% FG, 81.4% FT
Sneakers:
Nike Zoom LeBron IV (high school)
Adidas TS Pro Model (college)
Adidas Rose Cut Creator
Adidas TS Lightning Creator
Adidas TS Supernatural Creator
Adidas Crazy 8's
Adidas Adizero Rose 1.0
Adidas Adizero Rose 1.5
Adidas Rose Crazy Lights
Adidas Rose 773
Adidas Rose 2.0
Adidas AdiZero Rose 2.5
Adidas D.Rose 3.5
Adidas D.Rose 4
https://uat-blog.finishline.com