Meet The Man Behind @boostVIBES And Your Favorite IG Pages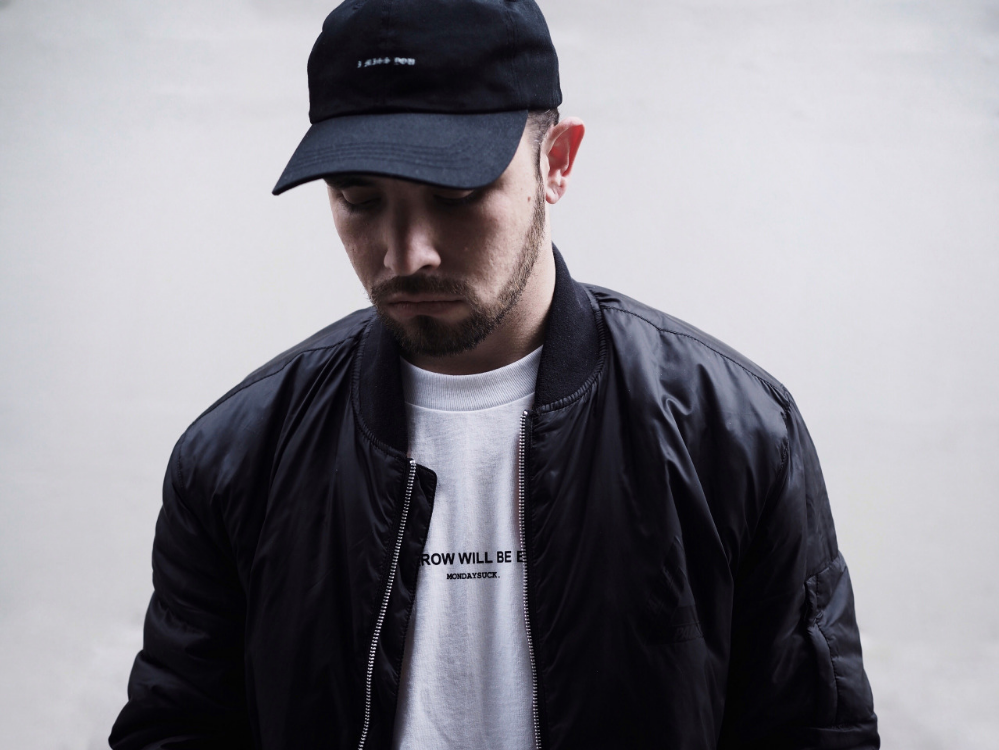 When it comes to the sneaker world, the use of social media gives people the opportunity to flex with their latest pickup or show off their insane collection. Finding new things to post everyday is no easy task, but imagine having to do it for nine different pages. Meet Alan Galloway, or better known to most as @oldmanalan. He is the man behind some of the most visited and liked sneaker pages on Instagram. If you haven't seen his personal page, you've probably seen his images being reposted from different sneaker sites and blogs. Alan isn't out for social fame, he is trying to push the culture forward and connect people with common interests through the power of social media.
Building a following is no simple task but he has built a following of over nine hundred thousand people on his combined pages. Most people can barley break one thousand without begging for followbacks. What he shows on one page impacts the others, so he always adds his own unique vision that can tie in so many different aspects of everyday life and encourage people to get creative. Alan has gone his own direction and created his own lane with all of his different pages. See what inspired Alan to make so many dope pages and what he could be cooking up next. ????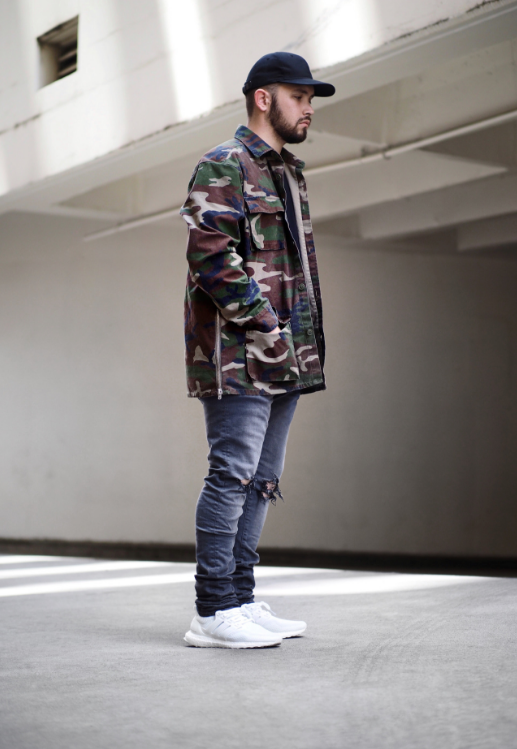 What inspired you to start so many accounts?
Alan: "I started doing this type of stuff first years back with a website I started called TODAYSHYPE. That was my first jump into the shoe/fashion lane on an official basis as far as a website or page. After that I started OutfitFromAbove and SimpleFits which became extremely popular very quickly. 
After about a year or so I let all of that stuff go and decided to go in a different direction. From that all of the different accounts I now run daily were born.
The reason I do all of this stuff first and foremost is I've always had a passion for shoes and fashion. It's something I've always been addicted to no matter how much I try and trick myself otherwise since I was a kid in middle school. 
Besides that I really just saw a lack of originality and very lack luster visuals everywhere I looked. That paired with a real lack of a platform for the people who actually do post great content everyday I decided maybe I should start to create lanes for people to showcase their skills."
What does your life outside of IG consists of?
Alan: "My life outside of IG is fairly normal I hate to disappoint anyone out there. I'm a husband and a father of 3 girls so you can imagine I don't really live a crazy or flamboyant life at all but that's the way I like it and wouldn't have it any other way. I'm a family first type of person so that always reigns supreme over everything else."
How have your skills evolved since these pages evolved?
Alan: "My skills are always progressing I would hope. As far as curating I just try and keep things clean and uphold a high standard no matter what. Not only does that ensure the page/platform always looks fresh but it also pushes people to step their game up as well."
Have you always been into photography/sneakers?
Alan: "Yeah I've always had an interest in photography especially with shoes. There's a lot of crazy talented people out there in the industries I've met over the years and I wouldn't consider myself on the highest level at all. There's so much to learn in the photography world and even though people admire some of the things I've done I know there's always room for progression."
Have any major companies reached out for projects/collaborations?
Alan: "The only official collab project through boostVIBES I've done so far is with my good friends at RopeLaceSupply. We did a series of 3 limited edition Ultra Boost and NMD laces that did very well. We will be doing a follow up to that very soon. I've had several other opportunities but I'm waiting on the right thing that makes sense on a big large scale level. Adidas if your listening I think you know what I'm talking about."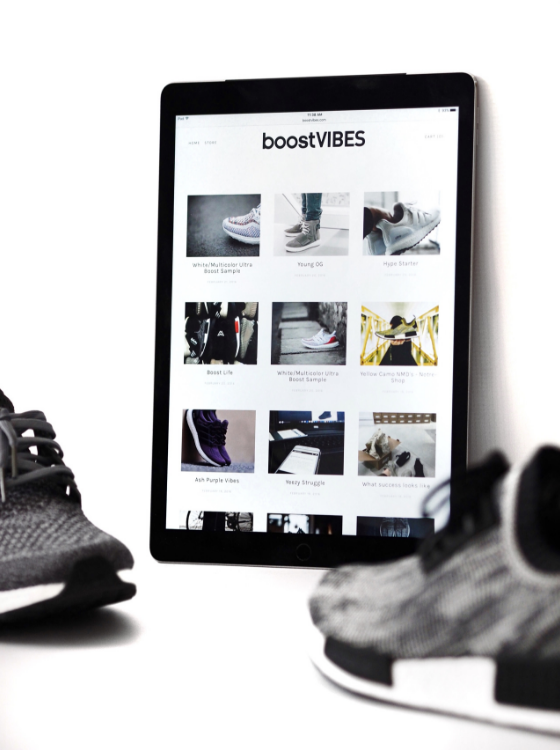 Did you ever imagine that #Boostvibes would become as big as it has?
Alan: "Honestly, no way in hell. I never start any of these platforms thinking or expecting anything honestly. I just go off of what I think is a good idea and have faith other people believe in my vision. boostVIBES has really just exploded more than anyone else and especially myself would ever think. The crazy thing is too that we're just getting started." 
What does it take to run 9 IG pages?
Alan: "It takes a lot of passion and dedication. I hear people complain all the time like "Ah I'm so busy with this and that". I just laugh and think to myself you have no idea. Try doing what I do, have a family of your own with a wife and 3 kids and try to make time for a real life off the Internet."
How much time during a day do you spend on social media?
Alan: "I honestly don't even know at this point. Some days the number is much higher than others but I try and keep it to a minimum if possible even though that's much easier said than done."
How often do you search for images/check submissions?
Alan: "I'm constantly searching for content and submissions all day long. People think I may miss something but I normally always catch everything. If you use a hashtag or tag one of the pages I'm going to see it 100%."
Does one page have more priority over another?
Alan: "I really try and keep everything on the same priority so everything progresses together. Even though some of the pages I run might not have as many followers as let's say boostVIBES I still think it's wavy and it should get the same attention."
What is your current sneaker rotation looking like?
Alan: "Of course plenty of Boost that's a no brainer. The Ultra Boost has really become my go-to as long as it's not raining. That's hands down my favorite shoe in years.  I'm a big Common Projects boot fan as well. I have a couple pair of Chelsea Boots and a dope Combat Boot from them that are going to get tons of wear this Fall/Winter. Besides that I'm also a big Vans fan. I always keep a pair of Old Skools or Sk8 HI's in my rotation no matter what. The recent FOG collaborations has been in heavy rotation as well for sure."
How many sneakers do you have in your collection/own?
Alan: "Currently? I'd say around 30 or so. I recently got rid of a lot of things that just sat in boxes collecting dust. Downsizing has actually been a really good thing. I'm trying to focus on just the essentials and cut the fat."
If you had to wear one sneaker the rest of your life, what would it be?
Alan: "It would have to be either the Vans Old Skool or Sk8 Hi. Being from California it's just a no brainer. Yes, there are shoes more comfortable, Ultra Boost, but if we're talking about every day abuse and the shoe still looking fire then those would be my go-to's."
Do you see yourself as an "influencer" in the sneaker community?
Alan: "I really hate that term so much. There's a lot of wack "Influencers" out there so that's the last thing I want to be associated with.  I know it's an unavoidable thing though because when you get to a certain point you will influence people no matter what but I just don't like when people put that title on themselves when it's not earned or warranted. 
Most of these kids out here are so entitled and think people owe them something because of the amount of followers or shoes they have. Just because someone might have tons of money and a closet full of shoes doesn't  make them an influencer."
If adidas gave you the opportunity to design a #boostVIBES exclusive Ultra Boost, what would your sneaker look like?
Alan: "Man, that would be epic. If I had the chance it would be something super neutral and easy to wear. I personally like stuff that's low key and has muted tones that can be worn with pretty much anything. 
I see a lot of other awesome collabs adidas has done with Boost stuff and I can only hope one day they're going to give me a shot to work some magic on a pair soon."
If you aren't already following him, check out his pages below.
Read Next
https://uat-blog.finishline.com