College Hoops Bracket Challenge

Do you think you know college hoops? Here's your chance to prove it. Finish Line is proud to present the Winner's Circle College Hoops Bracket Challenge. First place wins $5,000, 2nd-100th will win gift cards ranging from $500-$25. (Additional rules apply).
Is this the year a 16 seed will finally beat a 1 seed? Will a traditional powerhouse take home this year's title? Will a mid-major shock the world? Think you know the answers? This is your chance to #CallYourShot.
Register for the Finish Line bracket challenge today. Don't worry, we'll remind you to make your picks once the official bracket gets announced.
While you wait for selection Sunday, tweet at @FinishLine using #CallYourShot and tell us who you think has what it takes to win it all and why.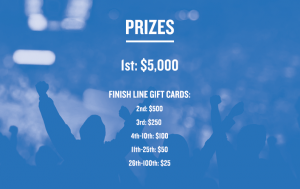 Read Next
https://uat-blog.finishline.com